The City as a Means of Environmental Education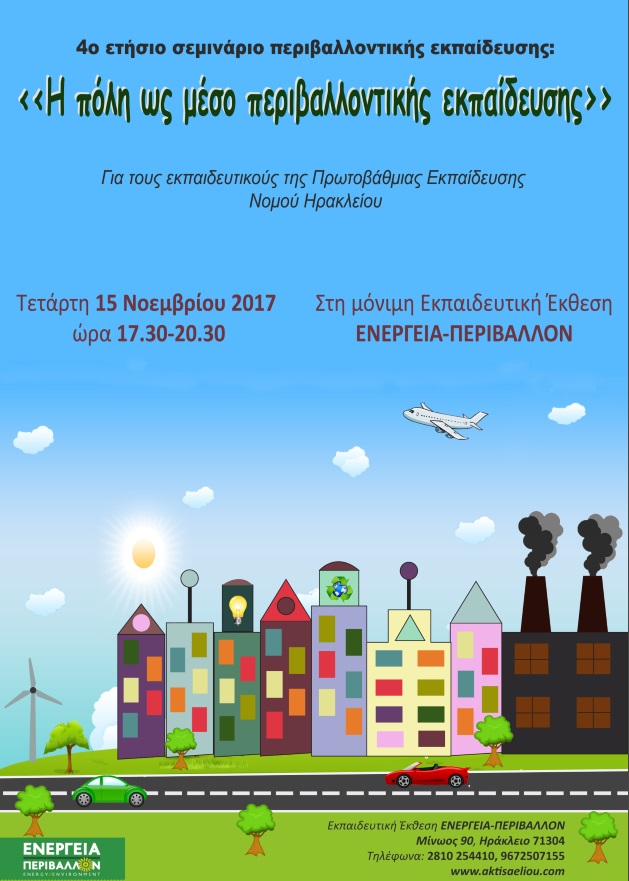 The 4o annual environmental education seminar "The City as a Means of Environmental Education" will take place on Wednesday 15 November 2017 from 17:30 to 20:30 at the educational exhibition ENERGY-ENVIRONMENT of Choumerianos family.
All teachers of primary schools in the Prefecture of Heraklion may attend the seminar for free. Due to the limited number of seats you are requested to register by email [email protected] or by phone at 2810 254410 or 6972507155 from 9.00 to 13.00 by Thursday November 9th, stating your full name, your specialty and school appointed to, your email address and telephone number. The entries will be confirmed by email. The exhibition will be open from 17:30 for viewing and touring. Address: 90 Minoos Avenue, Heraklion Crete, 71304.
17.30-18.00: Arrival – Tour report
18.00-18.20: Maria Kalogeraki (Dr. in Modern and Contemporary Greek History at National and Kapodistrian Univesity of Athens) "Sustainable city then and now. The means of each era and inventiveness as necessary conditions for sustainability ".
18.20-18.40: Despina Choumerianou (Dr. in Molecular Biology, Tour and Educational Programmes Manager of exhibition ENERGY-ENVIRONMENT) "The city we dream: environmental education in the built environment".
18.40-19.00: Mareini Markaki (Civil Engineer, MSc) – Emmanouil Karapidakis (Associate Professor in Energy Systems, School of Applied Sciences, TEI of Crete) "Intelligent energy management and smart home".
19.00-19.30: Dimitris Koukoulakis (CC p. Op. CommonsLab) "3D printing – new ways of production and new habits".
19.30-20.30: Thodoris Pintzopoulos (Sound Engineer-Music Technologist – Musician Educator) "the 3 elements of nature in and out of the city. With 3 of the elements of nature playing, we recognize the characteristics of Sound-Noise-Music in and out of the urban environment ".
Source: Newspaper «Patris», 31 October 2017